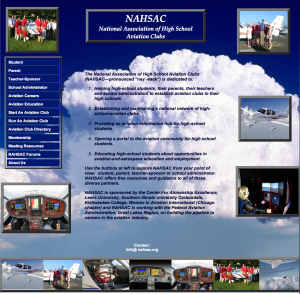 The National Association of High School Aviation Clubs (NAHSAC) is a national network of aviation clubs that have been established in U.S. high schools. The Center For Airmanship Excellence (CFAE) established NAHSAC and CFAE is the administrator of the organization. NAHSAC is cosponsored by CFAE, Kishwaukee College, Lewis University, Southern Illinois University and Women in Aviation International. NAHSAC is working with the FAA's Great Lakes Region to establish and maintain an aviation-career pipeline.
Capt. Joshua Allison serves on the Airmanship Outreach Committee as the Executive Director of the National Association of High School Aviation Clubs (NAHSAC).  Joshua grew up in Denton, TX (just north of Dallas) where he lived under one of the arrival corridors for the Dallas/Fort Worth International Airport (DFW).  So, he frequently found himself gazing up at airplanes headed for a landing at DFW.  He knew from an early age that he wanted to be one of the pilots flying those aircraft.  That began his lifelong passion for aviation.
Joshua started his aviation career at a small fixed-base operator in Gainsville, TX where he earned his private pilot's license.  After learning to fly, he was certain he wanted to pursue aviation as a career.  So, he attended Oklahoma State University (OSU) where he earned a Bachelor of Science in Aviation degree.  He was also a flight instructor and check airman for OSU.  Toward the end of his time at OSU, he was chosen as an intern for SkyWest Airlines.
After graduation, he was hired at SkyWest Airlines as an EMB-120 (Brasilia) First Officer.  Shortly thereafter, he transitioned to the Canadair Regional Jet, and he currently serves as Captain on the CRJ for SkyWest Airlines.  Joshua has a passion for aviation and a desire to share his love of flight with the next generation of aviators.